It began as an outreach mission…
Sharestuff opened in 2008 as a result of a mission outreach to the people of Waveland, Mississippi who had suffered great loss during hurricane Katrina. Heartland Community Church had partnered with two other churches to provide food and clothing for three months to hundreds of people who had lost everything they owned in the storm. The outreach showed the potential to provide clothing, shoes, furniture and more to the under resourced in our community at greatly reduced prices.
Heartland Community Church, which had recently purchased Colonial Village Mall, remodeled a large retail space to be the home of Sharestuff, which would become an upscale thrift store. As the name implies, the goal was to invite people to share their stuff and to volunteer their time to serve under resourced people as well as to provide a consistent revenue stream to help with the mall mortgage.
And quickly defined how dignified "thrift" shopping can be…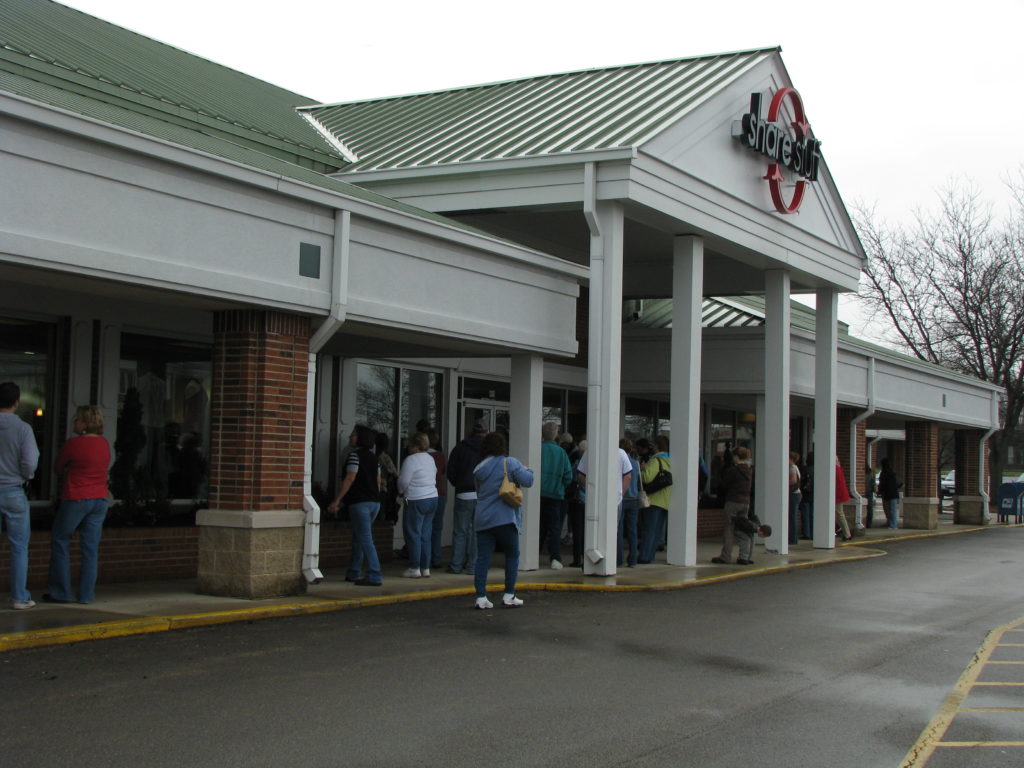 Sharestuff opened to rave reviews. The clothing and household items were the best of what had been donated. When a large, stand-alone building on the Heartland campus became available, Sharestuff Furniture & More opened. Since then, Sharestuff has been providing Stateline area families with a first-class shopping experience for gently used clothing, furniture, and household items at affordable prices.
is more than a store…
The stores have evolved over the years into more than an upscale thrift shopping experience. Everyone is welcome to shop, serve and donate at
stuff. People donate to the stores knowing that the merchandise will be put to good use rather than ending up in a landfill or sitting in a basement. Gifts from donors are sold to provide an income stream that supports transformation through Heartland's ministries to the Rockford community.
We're all in this together…
stuff connects customers and volunteers to opportunities that they might not otherwise have had, creating hope. The requirement of community service hours is common to many social service entities and personal development programs. Sharestuff partners with many of these entities in order to support anyone's effort toward personal growth and development, helping to prepare them for entry into the workforce. Some of the organizations we partner with include:
Elevate program through Rock Valley College
Rosecrance (Glendale Recovery Home)
Barbara Olson Center of Hope
Department of Human Services
Winnebago County (Dept. of Corrections, Probation Office, etc.)
Volunteers at
stuff receive basic job-training as well as opportunities to develop in areas of reliability, trust, customer service and leadership. Learning from and working alongside peer volunteers, stuff is a safe and engaging atmosphere for everyone to share in community and learning together.
All it takes is stuff…
stuff has work to be done and merchandise to sell because of the constant stream of donations gifted to the stores. While not all donations can be sold at stuff, donors can be assured that their gift is not wasted! Goods not sold at stuff are regularly donated to several local organizations including:
Boone County Food Pantry
Rockford Rescue Mission
St. Elizabeth's Center
Goodwill
Habitat for Humanity
UR Loved
And we haven't forgotten where we came from. *
stuff still responds to urgent needs in times of crisis. Through the Heartland Care Ministries, the Compassion Team in particular, stuff is able to support responses to the needs of the people in its community through gifted merchandise to those in crisis.
Join the cause…
By Shopping: Our stores are open 10:00am–6:00pm M-F and Saturdays 10:00am–4:00pm. Follow and like us on Facebook, Instagram & Google+!
By Serving: We always need more volunteers. Stop by, call or text Jason, Volunteer Coordinator, at jason.moffitt@heartland.cc or 815.312.6655. Groups also welcome to serve!
By Donating: We always need quality, gently used items and accept donations during store business hours. We pick-up furniture donations! Call to schedule a pick-up: 815-316-3041.
*Gifts from Sharestuff are approved through Heartland's Care Team. To meet with a pastor for prayer or assistance in crisis, visit or contact the Heartland Main Office at 815-395-8000 open Monday–Friday 9:00am–4:00pm.